Baricol® Complete Tablet
Baricol Complete is a complete vitamin and mineral supplement for those who have had bariatric surgery. Our tablets are a great option if you can swallow pills easily.
Why Doctors Recommend Baricol Complete
All in-One Product
Studies show that all-in-one supplements have better adherence over time.
Vital to Your Health
To prevent deficiencies, you need vitamin and mineral supplements to ensure your long-term health and wellbeing.
Experienced Professionals
Our bariatric dietitians and doctors are here to support you on your journey.
Simple Subscriptions
Get regular shipments of your supplements right to your door.
Several Flavours & Varieties
Choose between 4 varieties and flavours.
Tailored to Your Needs
Baricol is customised to be highly absorbable for your new anatomy. You won't find that in your regular vitamins!
How to Use Baricol® Complete Tablet
Pair with Another Routine
Like eating breakfast or having a coffee break.
Take with Food
So it's easier on your stomach.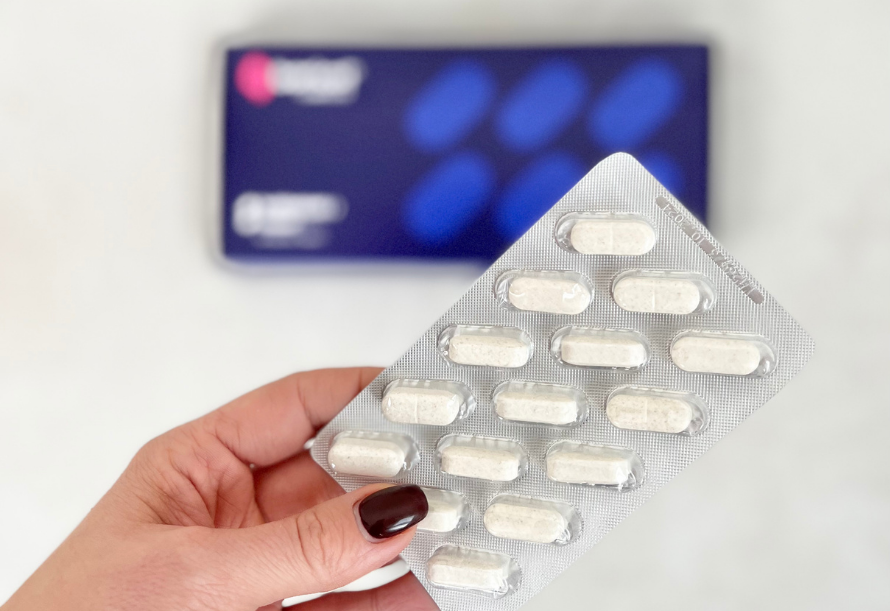 Start Slowly
Take the 5 tablets in 2-3 doses at first. If you can take them at once later on, go for it!
Store in Sight!
Out of sight, out of mind! You can also set reminders with our BariBuddy app!

Download the BariBuddy App!
BariBuddy was developed by bariatric doctors, dieticians, and psychologists to be your best friend after WLS. It reminds you of what to do, and when to do it, like drinking, eating, and taking your vitamins. You can also find answers to FAQs, tasty recipes for different diet stages, and much more!
Everything your Body Needs - Every Day
Compare the Nordic Guidlines to Baricol Complete
Nordic Guidelines
Iron 45-60 mg
Vitamin B12 >350 µg
Vitamin D 800 IU
Folic acid 400 µg
Thiamine 1,1-1,4 mg
Zinc 9 mg
Calcium >500 mg
Baricol® Complete
Iron 50 mg
Vitamin B12 700 µg
Vitamin D 1800 IU
Folic acid 400 µg
Thiamine 2,0 mg
Zinc 21 mg
Calcium Citrate 1000 mg
That's why we choose Baricol after WLS!
The Baricol community has thousands of satisfied customers, each with their own favourite product and way of taking it. Read their stories to see why they choose Baricol.
Louise, Gastric Sleeve 2017
Immediately after my gastric sleeve operation, I chose regular prescription vitamins but thought it was complicated and some tasted very bad...Then I tried Baricol Complete and was very impressed.  They are all-in-one, and I no longer need to deal with arranging refills for the prescription vitamins when they run out. Stylish packaging, smart blister packs with exactly three days per sheet, and above all, now I get everything in one product shipped right to my mailbox! I swallow them with my morning coffee, and they slide down easily. I will never choose anything other than Baricol!
Annica, Gastric Bypass 2018
Even before my operation, I had ordered a sample pack from Baricol to see if I liked them. I now choose Baricol because it's easy to take the effervescent tablets with my water. I also like that I can take the tablets at the same time and don't have to think about it later in the day or deal with a bunch of different products. I myself have gotten out of the habit of taking vitamins here and there, and it takes about 2 weeks before I feel a bit off mentally and physically. So get in a routine, and take your vitamins every day! If you need support, the team at Baricol is always there with a helping hand and a smile!
Micke, Gastric Sleeve 2019
The day after my VSG, the dietitians said that the doctor would prescribe me vitamins that I would need to take for the rest of my life - and there were a lot of different products and tablets to keep track of.  For me, it was not that appealing to have to keep track of all the pills plus renew my prescription every time I was about to run out.  Then, the dietitians mentioned Baricol: an all-in-one supplement that comes as a subscription to directly to my mailbox.   For me, it was not a difficult decision. I chose the strawberry Baricol Complete Chewable.
Veronica, Gastric Bypass 2018 name of company
. <br>During the first summer after my gastric bypass, I did not take any vitamins. It was too complicated with many different packages and complicated schedules. At Danderyd's Hospital, they told me about Baricol® Complete, and since then, I take my vitamins every day. It's so much easier! I started by ordering a sample pack and then a subscription. I am super satisfied. Baricol feels more fun to take. I drop both effervescent tablets in my water bottle and finish it before lunch.  I always take them in the morning and keep them on my kitchen counter to help me remember.
Kim, Gastric Bypass 2018 name of company
. <br>For me, Baricol was the obvious choice even before my surgery. I received information about Baricol's products at a meeting at my surgical clinic before the operation. Immediately, I liked the idea of ​​a complete vitamin supplement that could make my everyday life easier. I have tried all of Baricol's products, and every one has its advantages. When I tested the Baricol Complete Powder, I fell in love immediately. I have a little difficulty swallowing large amounts, so now I mix the powder in my juice or smoothie and get all of the vitamins and minerals I need to feel good. It's SO simple!
Patric, Gastric Bypass 2014 name of company
Before my RNY surgery, I went to a number of lectures on the operation. There I was told that you would take vitamins every day for the rest of your life and that you should not take all of them at the same time. The clinic also presented a new product: Baricol Complete - just 3 chewable tablets a day. I started with the "regular vitamins" for about 1 month, but I got tired of them, so I contacted Baricol and started my subscription. Ever since, I have taken the chewable tablets. I take all three at breakfast. They are really good, and all of my blood values ​​are great.
get complete nutrition with
Baricol® Complete
Choose between 4 different varieties and flavours!